Dental Chair / Dental Unit, CARE 11
Produced using superior workmanship, Runyes' safe and reliable CARE11 dental chair has elegant appearance and practical functions. Our dental units with instrument trays installed upward and downward are available for choice.
CARE11U=CARE 11 dental chair with instrument tray installed upward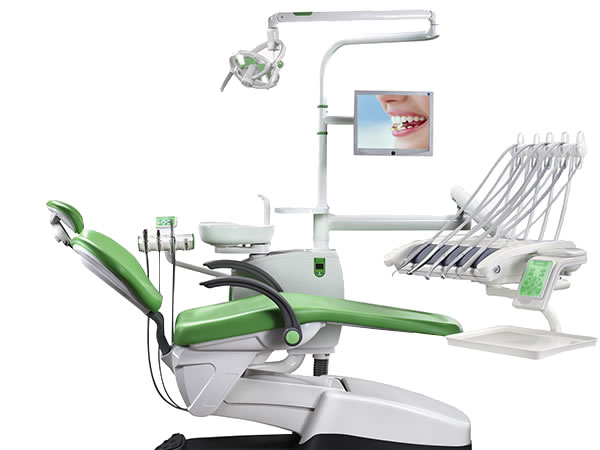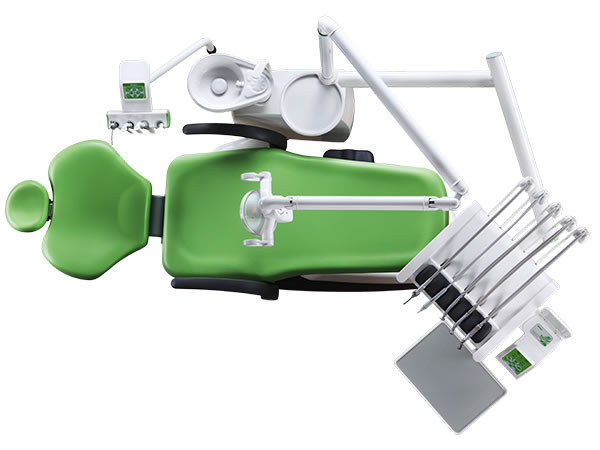 Green
CARE11D=CARE 11 dental chair with instrument tray installed downward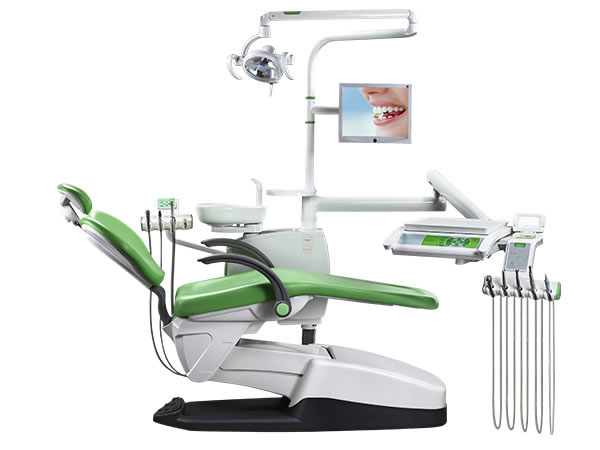 Green

Advantages
1. In addition to clean, tidy, elegant and rational design, our dental chair and delivery unit adopts computerized intelligent system that is configured with two multi-purpose keys, which can be simply set to realize any possible functions, for example, to control the oral light via the foot switch.
2. One-piece PU baseplate embodies the perfect combination of luxury and stability; the foot switch on the baseplate has the functions of cooling and cleaning the handpiece.
3. Our chair mounted dental unit is molded using ABS plastic and composed of imported water tube, air tube and handpiece; it comes equipped with master control and sub-control devices; there are preset key, rinsing position key, reset key, etc.
4. The dental unit allows 90° right angle rotation so as to facilitate the four-handed dentistry; the dental handpiece and connection tubes can be placed either horizontally or vertically; the chair and equipment can be interlocked.
5. Cuspidor can have 90° inward rotation to provide patient with convenient use; the function of joint compensation can bring comfortable experience during the adjustment of the chair.
6. Saliva ejector can realize strong and weak suction and has time-delay function.
7. Adjustable headrest can suit the body position of both children and adults.
8. Instrument rack has the function of automatic detection.
9. There is reserved space for curing light, dental cleaning machine, endoscope, etc. for easy upgrades; a safety protection device is prepared for the lifting mechanism of chair.
10. The water filler is installed on the top for easy water filling; it also has an alarm system for water shortage.
11. Runyes' dental treatment unit has passed the CE certification, ISO 13485 certification and ISO 9001: 2000 certification.
Standard configuration and features
| | | |
| --- | --- | --- |
| Configurations | Quantity | Features |
| Oral light | 1set | 8000-15000Lux; color temperature: 3000-5000K |
| Water temperature control system | 1 set | 35-45 ℃ adjustable, digital display |
| 3-way syringe | 2 sets | With constant temperature water supply |
| Saliva ejector | 1 set | With time-delay function |
| Light panel for the viewing of X ray film | 1 set | Unique foldable light panel |
| Rotary mechanism | 1 set | Equipped with rotary ceramic cuspidor |
| Water purifying system | 1 set | The filler is designed on the top for easy water filling; it meets the requirement for water control and pipeline sterilization |
| Air lock delivery arm | 1 set | |
| New type foot switch | 1 set | Multifunctional |